PRODUCT DESCRIPTION
Intelligent human body temperature scanning system, individually and in groups – TERMOGUARD DMI-L is a necessary equipment to prevent and combat the spread of SARS-Cov-2 virus infection and to increase the ability to respond to crisis situations being a product integrated and developed by DACIA Military Industry, the components coming from import and from the Romanian market.
The system has the ability to measure, without contact, the temperature of the human body, preventing the spread of viruses with a high degree of contagion: SARS-Cov-2 (COVID 19), SARS 2003, MERS 2012, measles, rubella, other diseases that may be associated temperature rise above 37 – 37.3 degrees C.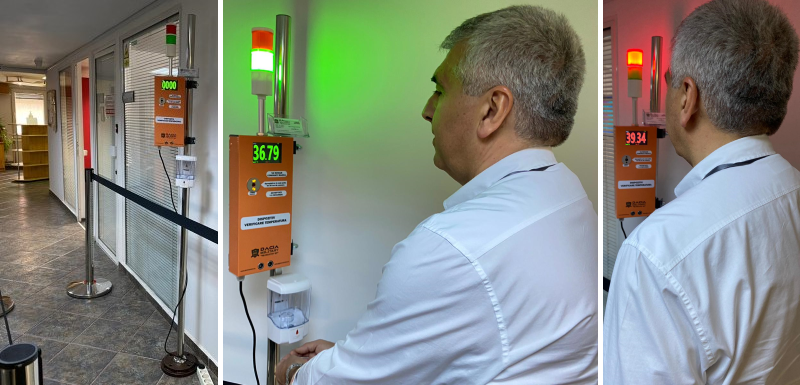 The intelligent TERMOGUARD DMI-L human body temperature scanning system MUST be widely used at the entrance to kindergartens, schools, high schools, universities, hospitals, public and administrative institutions, town halls, ministries, critical infrastructure, airports, railway stations, customs, production units, private institutions, companies, cultural institutions (theaters, cinemas), shops, malls, hypermarkets, streets, boulevards, pedestrian areas, heavily trafficked parks, etc.
The installation and commissioning of the system shall be ensured, including the training of the beneficiary's operators.
The warranty period is 12 months from commissioning. Delivery within a maximum of 15 days from the signing of the supply framework contract.
For deliveries in Bucharest and Ilfov County, transport is free.
CHARACTERISTICS
small size, easy relocation;
compact system design, space saving, fast implementation;
accurate measurement of people's temperature, without contact;
intelligent patented temperature measurement algorithm, temperature measurement accuracy +/- 0.2 degrees C;
height-adjustable to facilitate the measurement of children's temperature;
it is harmless to pacemakers and pregnant women;
can be installed (mounted) directly on the door frame;
can be installed outdoors, covered by an umbrella (in case it rains or if it is exposed to sunlight);
automatic real-time display, sound alarm and alert message;
fast measuring capacity (60 people per minute);
facial recognition and recording of both minimum facial temperatures and facial temperatures that trigger the alarm system (temperatures higher than 37 – 37.3 degrees C, depending on the setting desired by the beneficiary);
counting number of people with normal temperatures and number of people with exceeded temperatures;
can replace the infrared gun and reduce the risk of a secondary infection.