Instructions for Proper Use of
Disinfection Station
Scope
The disinfection station is to be used for disinfecting hands that may be contaminated with Sars Cov 19 or other transmissible pathogens.
Usage Instructions
The first step is to add four 3.7v batteries to the drip system of the disinfectant solution. This is done by opening the access door located at the back of the device. After connecting the batteries, ensure that the disinfectant solution container is full, and turn on the device on the right side. Test if the device is functional by placing your hand in the designated area. The wipes and trash can are inserted from the back of the disinfection station, while ensuring that they have been installed properly from the front. After completing all the steps above, make sure to close the back door to prevent unauthorized access.
Prevention and Protection Measures
To avoid any possibility of injury, the disinfection station should not be positioned in pedestrian access areas or in fire exit zones. Before each use, a visual inspection should be conducted to identify any possible defects in the drip system that may have occurred due to mechanical shocks. To avoid possible irritation, it is recommended to use the wipes provided at the disinfection station after the disinfection procedure. To perform proper disinfection, it is recommended to dispense the disinfectant substance on both hands and then perform a motion similar to the one used when washing hands. The trash can should be replaced regularly, and waste disposal should be carried out in accordance with applicable laws.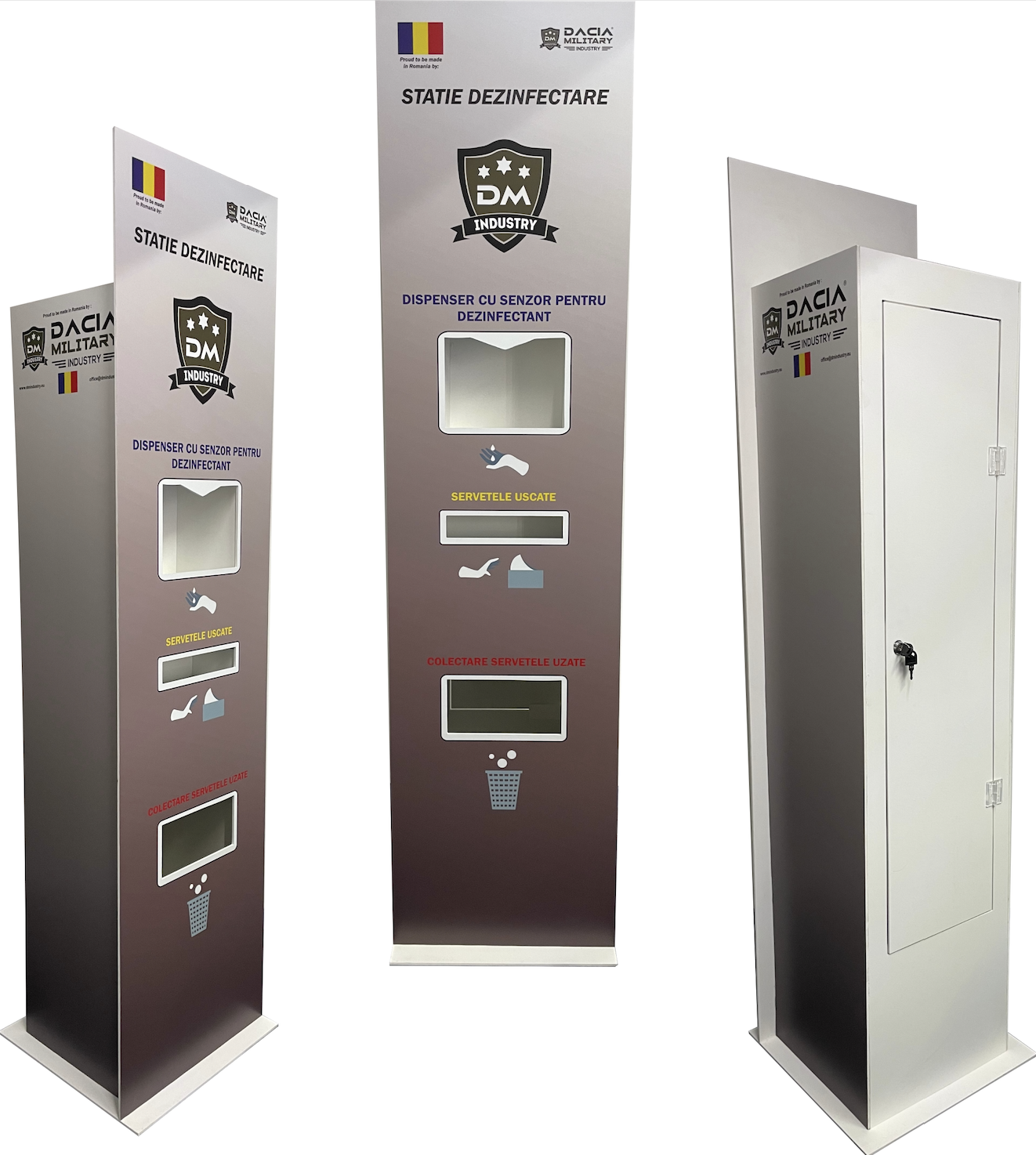 Product Technical Data
* Technical diagram of the structure
Product Name: Disinfection Station;
Material Used: Modular structure made of white PVC foam panels with a thickness of 5mm, PVC adhesive film printed in full color and protected with a transparent film to increase the durability of the print over time.
Structure dimensions: height – 1600mm; width – 400mm; depth – 400mm;
Disinfectant dispensing system: container with a capacity of 700-1000ml and a power supply system consisting of 4 AA batteries.